How COVID-19 reshaped the Fitness Industry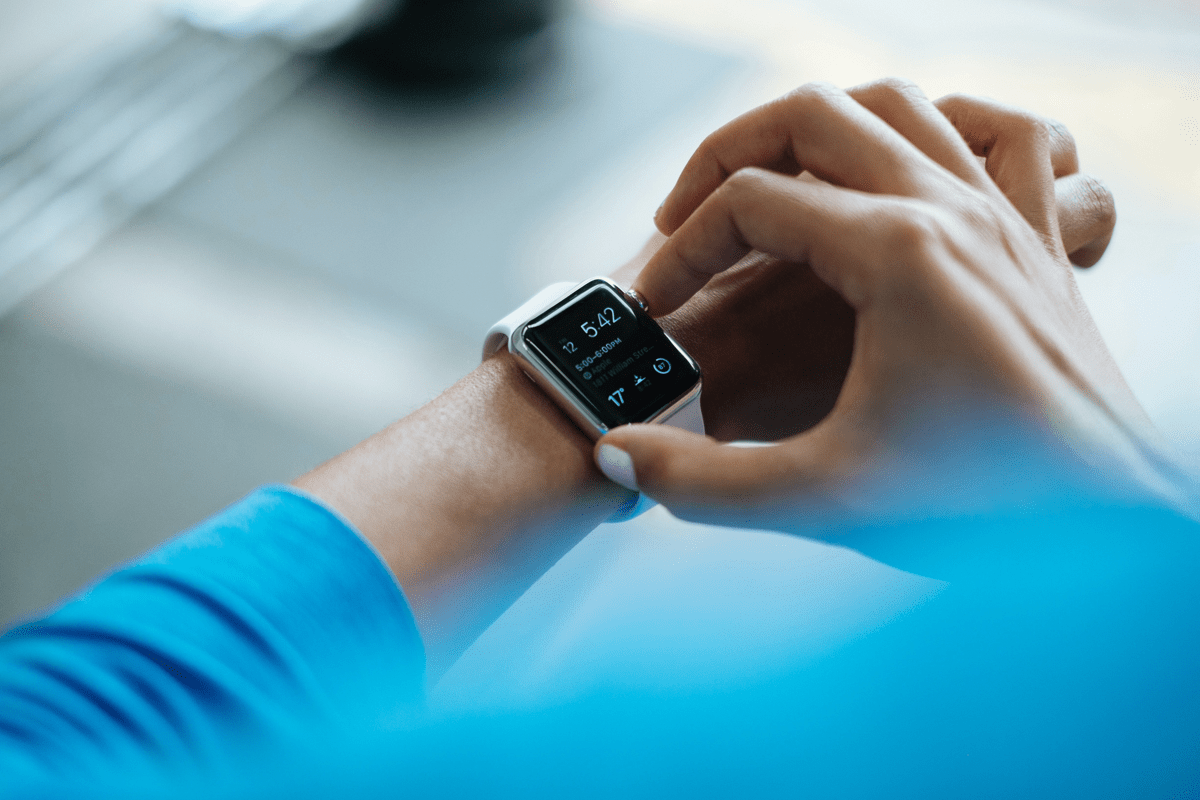 How COVID-19 reshaped the Fitness Industry
Well, 2020 was a bit rubbish wasn't it?! In a year where we saw enforced closures, employment changes and continual financial challenge, it is really important to note that the industry has also seen evolution, innovation and adaptation.
With yet another lockdown in full swing the gyms are closed yet again (which is a whole different subject - praying for April 12th!) a gap has been left in the market, which digital fitness has stepped in to fill. No longer can someone do their 3 classes a week and 5000 steps in a gym environment. However, companies like Strava, Peloton and Apple have recognised that there is still a need to share experiences and use exercise not only as a tool to improve physical health but build and strengthen social and community ties. As humans we are naturally going to use the convenient option and in a year where home workouts have increased by nearly 50%, a new hybrid fitness model has emerged which will put pressure on the industry operators to provide a new and improved hybrid offering or risk losing out to the new wave, backed by companies worth literally billions or trillions of pounds.
In the last 12 months there has been some considerable movements by a number of companies. Apple is now worth 2 trillion dollars (which even though I know is a real number, sounds made up) and what's scariest about this is Apple was founded in 1976 and it took until 2018 to make their first trillion – it took less than 2 years to make their second which shows how reliant we have become on technology and how profitable it is.
Apple launched Fit+ in December to much fanfare – a mere £9.99 a month will now give users access to numerous workouts, data and convenience which I would argue will attract a number of casual gym goers who do not want to fork out the monthly membership fees anymore. Users can do all of this from the comfort of their own home with just their phone and an apple watch – and with 55% of the smartwatch market currently being occupied by apple there is scope for even more growth.
Peloton at the time of writing has a market cap of over £31billion, the UK fitness industry is worth £1.62billion to put that into perspective. Its total users grew by over half a million in 2020 taking it beyond 1.3 million users, this all being with the perception that Peloton is an expensive product which only a few can afford. They are launching their Peloton plus platform which very much like apple+ gives you convenient fitness for £12.99 a month. This coupled with its purchase of Precor it is likely their success and value will sky rocket even further.
I'm a big fan and user of Strava which if you don't know what it is, is essentially is to fitness what LinkedIn is to business. A quick google search will tell you they have around 55 million users and are adding 1 million a month. What I love about it is that it gets people interested and involved in exercise that normally wouldn't be. I've had the father in law congratulating me on a daily basis for my daily walk which has spurred him on to start jogging. He's never had a gym membership and he certainly won't be getting one when gyms open again but without apps like these millions of people might had been living a more sedentary lifestyle during these past few months.
This will no doubt force the big players in the UK fitness markets to develop and keep their hybrid offering beyond the end of lockdown 3 (I think its 3 I've lost count) which could see memberships for online classes only or reduced costs for less time in physical in gym memberships but more access to their online offerings. There is certainly scope for a lot of change to happen and it's going to be interesting.
Another hugely exciting and encouraging thing that I've noticed is the progression that individuals have made with their own businesses. Online coaching was seen as a small part of PT with most preferring the physical 1 on 1 sessions with clients, but when this has been taken away - people have been forced to adapt to survive. I will be following this blog up with another couple detailing some examples of how a PT has moved his business online to great success and how in slightly different example of how the online fitness world has developed, another blog on the rise of online fitness communities.
2020 certainly was a difficult time for our industry but as detailed the landscape has changed thanks to significant investment. Fitness is a big part of a lot of our lives but sadly not enough of the nation as a whole, as proven by the fact that only around 15% of the population has a gym membership (and with a lot lot less actually using theirs regularly enough). The fact that the government hadn't deemed gyms essential (do you really think if 40-50% of the nation had been up in arms about gym closing instead of a couple of million it would have still happened?). I honestly believe that the developments of 2020 have forced some much needed changes to make sure that fitness is much more accessible to everyone.
Gyms and in person fitness will always be the preference for a lot of people but a new and profitable arm of the fitness industry has emerged this past year and will continue to force change in the industry.
Thanks everyone.
Cam
cam@loverecruitmentgroup.com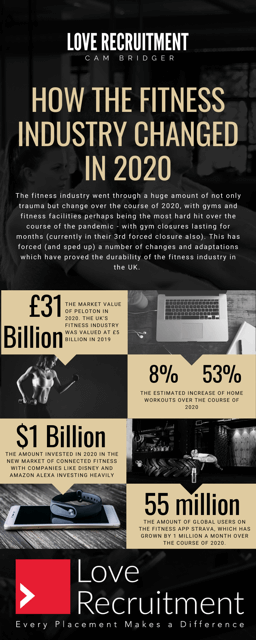 Cam Bridger