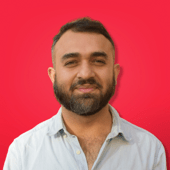 Abhishek Lakhina
Managing Director
Abhi co-founded Love Recruitment in 2015 and is our Managing Director. Abhi has exceptional recruitment experience from fitness, sales and communications and brings a special brand of passion and personality to every task.
Abhi specialises in working closely with key accounts on a senior level and specialist hires across all of our specialist sectors.  Abhi also works closely with our key clients and key relationships to help them with the recruitment processes and selection strategies.
Best recruitment advice?  It's all about the preparation. In Abhi's opinion, the most important question you need to answer is, Why do you want to work for a particular employer?  Detailed research into an employer can go such a long way towards landing your dream job.
You can find more advice and guidance in your job search with our candidate guide or to chat to Abhi about recruitment needs, his email is above.
You can listen to more of Abhi's thoughts via his Love Your Career Podcast interview with Lawrence which can be found here.